Work benches
Ergonomics is our passion
Back-friendly work on our workbenches
used all over the world
Our workbenches are not only tables, they are made with passion.
Since the first appearance of these workbenches at the Inhorgenta Fair in Munich in 2001 they are being built more and more to meet the continuously increasing demands of the users.
Since that time, watchmakers' and goldsmiths' workbenches are standing all over the world, be it in the US, Canada, South Africa, the Near East, Moscow and Asia.
We can provide you with everything when it comes to ergonomic workplaces, be it for watchmakers, goldsmiths, stone cutters or engravers.
Whether it a basic or standard (height adjustable) workbenches, chairs or luminaires - we supply everything from a single source.
On account of our multi-faceted company, special requests can be realised.
We make your workplace perfect!
Let yourself be inspired by the following pages.
We will be pleased to advise you personally.
We supply to wholesalers exclusively.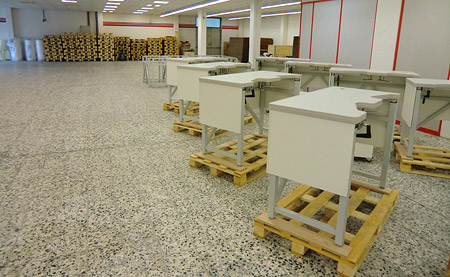 Assembly shop for watchmakers' benches and outdoor storage