About us
In 1989, the Thomas Engstfeld Joiners' Workshop was established at the present location in Detmold-Hornoldendorf. At present our company employs two master carpenters, five journeymen, two helpers, two office workers and three apprentices in different years of training.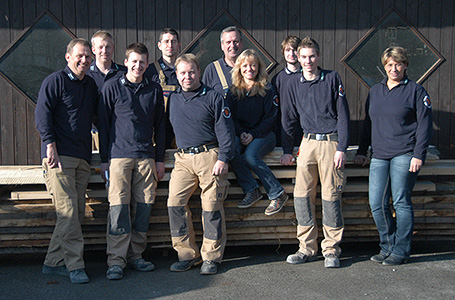 Our working area covers a workshop of about 680 sqm, a storage area of 1,120 sqm and a depot. We combine our craftsmanship with modern production and focus on your individual requests and needs. CNC wood-working machines permit rational production at highest precision on prototypes, individual parts and series manufacture. And that at economically reasonable prices.
With our know-how and the hi-tech special machines we solve almost all your machining problems whereby there are hardly any limits to your design options.
Our focus is on sound joiner's work utilising domestic timber combined with surface techniques beneficial to the environment and health.
In the massive wood range, our range covers from staircase, interior construction, furniture construction and doors to restorations. Frequently we deal with individual manufactures of solid timber staircases or built-in cabinets, but also individual units for living rooms, bathrooms, bedrooms or rooms with roof slopes are frequently produced to measure.
As a selected partner we can offer exclusively the orthopaedic sleeping system by SAMINA.